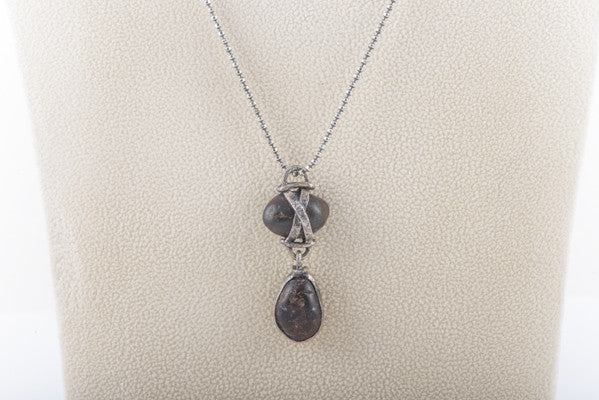 Jasper double-drop
$198.00
This beauty is so cool, you will love it the minute your put it on and won't want to take it off!  Both pieces of jasper are wrapped in oxidized sterling silver.  The jasper is a deep rich brown and the bottom piece hangs freely so there is movement. The silver has been slightly hammered to show texture.  The double-drop hangs from an oxidized sterling silver 1.5mm bead chain.  The jasper is so cool, you really need nothing else with it.  Of course, you can layer it with other Ellen Schmidt Jewelry to get a totally different look (see the alternate image, though other pieces not included in this sale).
The necklace measures 20 inches long so is great over a shirt.  All metal parts, including the lobster clasp (not pictured) are sterling silver.  Like most necklaces, if you prefer to have it a slightly different length, you can contact me and I can make small changes.  
I really don't even want to sell this one, grab it while you can!